Introduction
You may experience a situation where the wrong Team type was selected in the Registration Choice and then Teams were added to the event. Simply changing the Reg Choice to the correct team type will not change any existing Teams' types. You must export and re-import any Teams within your event.
If you'd prefer to watch a video on this topic, click HERE.
Correct the Reg Option
Before you can export and re-import Teams to correct the Team Type, you have to correct the Team Type in the Registration Choice.
Navigate to the Registration > Choices tab.
Locate the Reg Choice that needs to be corrected and click Edit.

In the window that appears, locate the Team Type box and select the correct Team Type.

Click Save & Close.
Navigate to the Registration > Overview tab and release the newest Form so that future Team registrations will be given the correct team type.
Export and Re-import
Re-importing Teams causes CT Live to re-apply the Reg Option settings to the Teams.
NEVER re-import an old Team file. You may overwrite new information and changes that occurred since the file was originally uploaded. Follow the below process.
Navigate to the Teams tab and click the Export Teams button.

Select a single Race to export the Teams from or All.
If there are Teams that have been disqualified or withdrawn that you would like to change the type for, select All in the Status field.
Click Export & Close
Once the file downloads, open the file in Excel, and save it as a MS-DOS .CSV file.
No click the Import Teams button in your CTL event.
Ignore every column except the Team ID and Registration Choice columns.


If you need to assign bibs to your Relay teams, you should also include those bib assignments here in this upload unless you will be assigning them later.



Complete the upload process. You should see that the team type is now the correct type.
If you had previously imported a Bib/Chip Offset file, you will need to re-import that file now.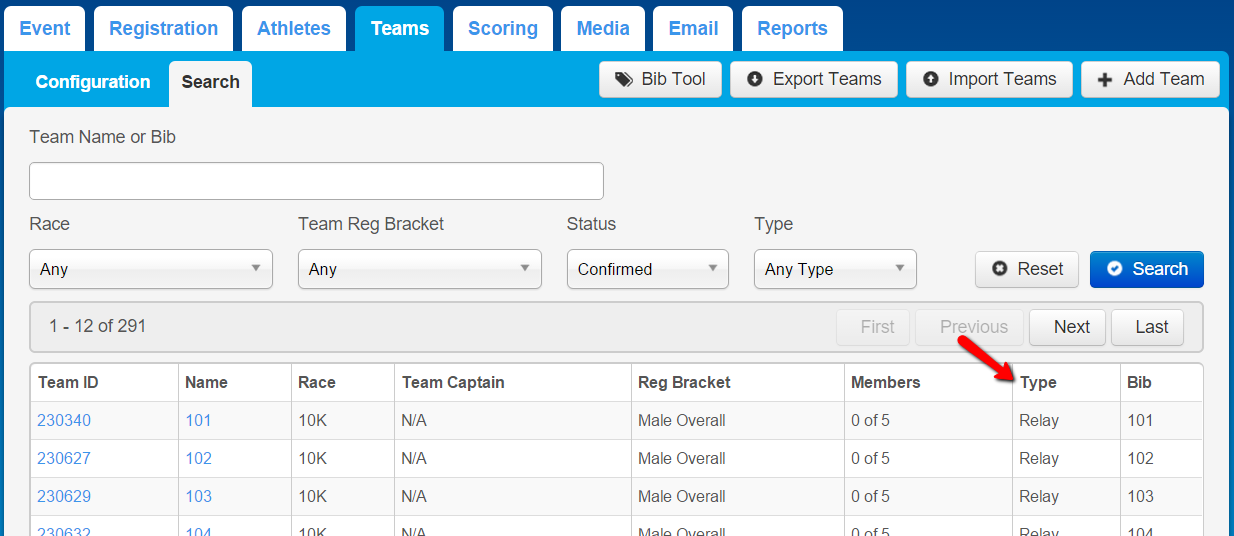 If Relay Type Athletes Originally Had Bibs Assigned...
You'll need to clear out the bib and tag assignments for Relay team members if they were incorrectly assigned bibs and tags. To do this, go to the Athletes tab and click Export Athletes.

In the window that appears, select your Team race and click Export & Close.
Once the file downloads, open the file in Excel and locate the Bib and Tag columns. Now replace the value in each cell with <delete> as shown here.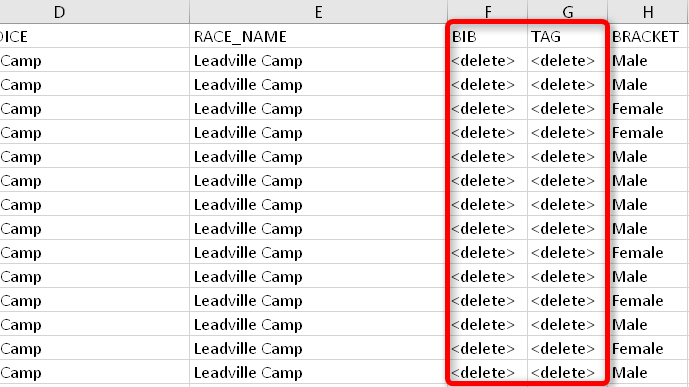 Now re-import the Athlete file, including only the Chrono ID, Reg Choice, Bib, and Tag columns. The athletes' bibs should now be cleared.