Introduction
Before photos can be displayed with Athletes' results, you have to sync one of the photos to its corresponding athlete. Once you've matched one photo to an athlete in the photo, ChronoTrack Live will use the time stamp on the photo with the finish time of the athlete you synced it from to sync all other photos. This process requires you to first Upload Photos to your event.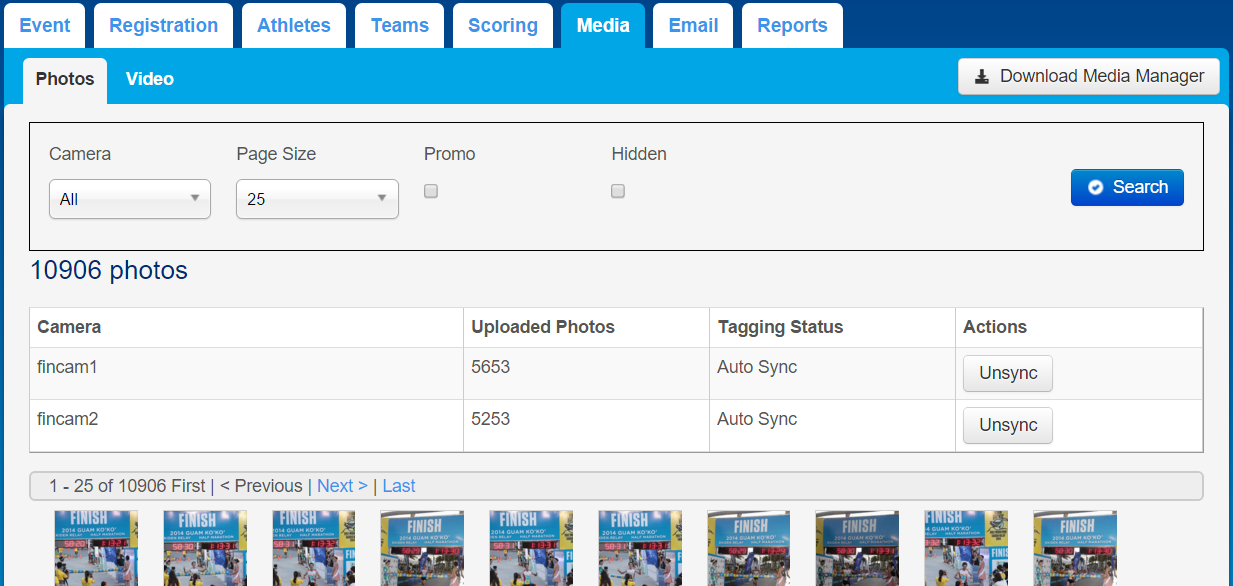 Syncing Photos
Once you've Uploaded Photos to your event, navigate to the Media > Photos tab.
Find a photo where an Athlete is directly over the Finish Line. The bib does not have to be visible as long as you know the runner's bib number or can check another image where the bib number is plain. Position over the mat is the key.

Once you've identified a good photo select it, and enter the athlete's Bib number in the text box at the bottom of the photo. If you don't know the athlete's bib number or can't see it clearly, advance to a further image where the bib may be more easily seen, then go back to the image where the athlete is directly over the line.
Click the Arrow next to the Save & Continue button.
Select Sync Camera.

A window will appear where you can verify that you entered the bib for the correct person and select the proper time with which to associate the photo. If you're satisfied that the information is correct, click Complete & Save.

If successful, you will see a green pop-up in the top right of the screen saying [Camera Name] Sync Successful. If there was an error, a red pop-up will display the reason for the error.
Once the camera is synced, the page will auto-refresh and the Tagging Status will say Auto-Sync. Photos may not appear in Online Results immediately, so please allow a couple minutes for the Results to update.
Once you've synced a Camera, you can also Unsync it to remove all photos that had previously been synced from the athletes' profiles. You can also Hide/Unhide all photos from each camera.