Wait, what's CT Live 2.0?
We've now released phase one of CT Live 2.0 which will slowly spread to provide visual upgrades and a reorganization of current features to improve user flow to the entire site. This first release introduces the following:
Updated responsive website design for My Events and Add Event pages
New "My Events" page sorting
New, shorter Event creation process

5-step process with no Registration settings

New "Tag Manager" sub-tab on the Event tab

Relocated Google Tag Manager settings here

Relocated Custom 'Registration Closed' Header to Registration > Overview tab
New "Payments" sub-tab on the Registration tab

Relocated Fees/Taxes and Payee settings here
All features that were removed from the Create Event process and relocated to new locations can still be edited via Event Properties in addition to their new locations.
The "My Events" Page
When you start creating Events in CT Live, they'll appear in a list on the My Events page. This list can be searched by event Name or ID Number, filtered by Organizer, and sorted by Name, Location, Date, and Organizer.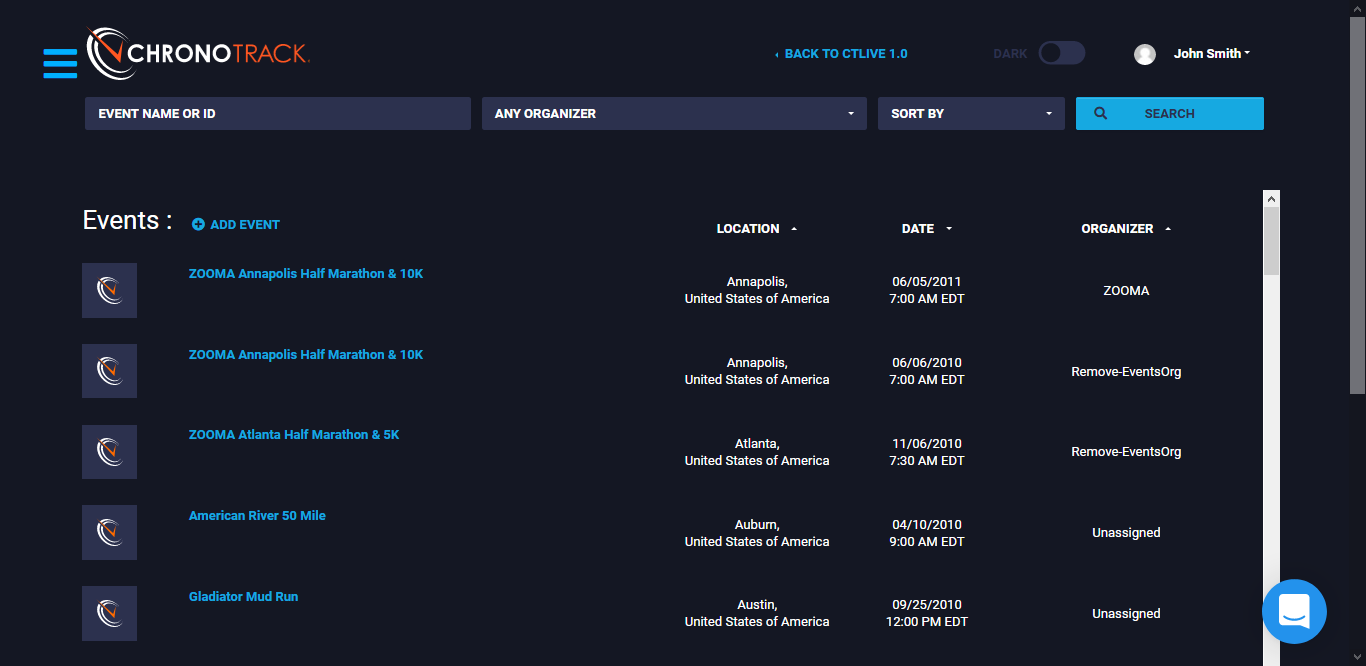 The icon of three lines in the upper left corner of the screen gives access to the Add Event, My Events, My Users, Downloads, and Help pages of CT Live.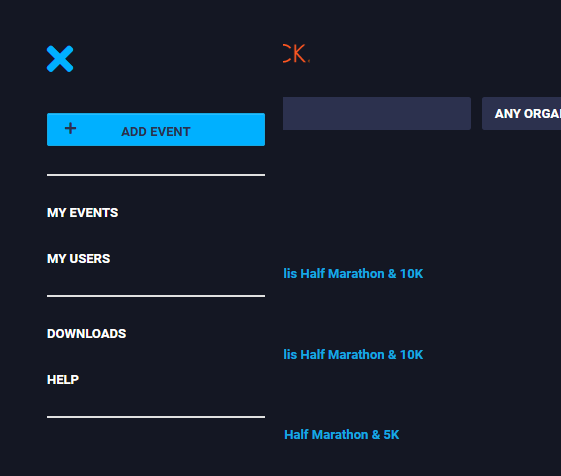 Creating an Event
Click the + Add Event button. The first step will require you to select an Organizer you've worked with before, or enter information for a new Organizer.
This is the company, organization, or person putting on the event. If it's you, enter or select your information, and click Continue.



Relevant Reading: Understanding Organizations and Account Role Access


Step 2 is where you fill in the basic information for the event - what it's called, when it's happening, and where it'll take place.

Next, you can select a Timer for the event. If you're an organizer working with a timer you've never worked with before, you may not have access to select the correct Timer. Just leave the "Add a Timer..." box unchecked and continue.

Step 4 is where you choose an Athlinks event to link your new CT Live event to. Based on the Official Name you entered in Step 2, we'll try to find the right Athlinks event. If this is a brand new event or you can't find the previous year's event in the list, just click the "I don't see existing events..." bubble and then continue.

The last step allows you to choose which general features of CT Live you'll be using in this event. You can come back later and select additional services later. Leaving boxes unchecked will lock or keep some features hidden.

After you click Complete & Save on the last step, you'll be directed to the Event Dashboard in CT Live and the Create Race window will automatically pop up.