Introduction
Each ChronoTrack Controller contains at least one Reader with four Antenna ports per reader. Pro2 Controllers, Pro 800 Controllers have two Readers, and Pro 400 and MiniTrack Controllers have one. ChronoTrack Readers are programmed with custom code and tuned to operate within very specific parameters. The reader puts out an ultra-high frequency radio field through any attached Antennas. The shape and intensity of the field depends on the number and type of the attached Antennas. Different Antennas read different types of tags better than others, depending on the tag.
This guide will describe the various types of Antennas and Tags, and which Antennas work best with each Tag type.
Antennas
There are three types of specially-tuned Antennas sold by ChronoTrack: Threshold (Gator) Antennas, FlashPoints, and Near Field Antennas.
Gator Antennas
The Threshold or 'Gator' Antennas (also known as an Interrogator Core) is a ground antenna that is placed within the Interrogator mats, as shown below. The Gator Antennas are specially tuned to work best when placed within a Gator with the flap closed.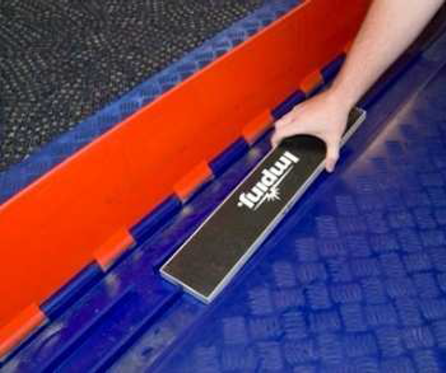 Flash Points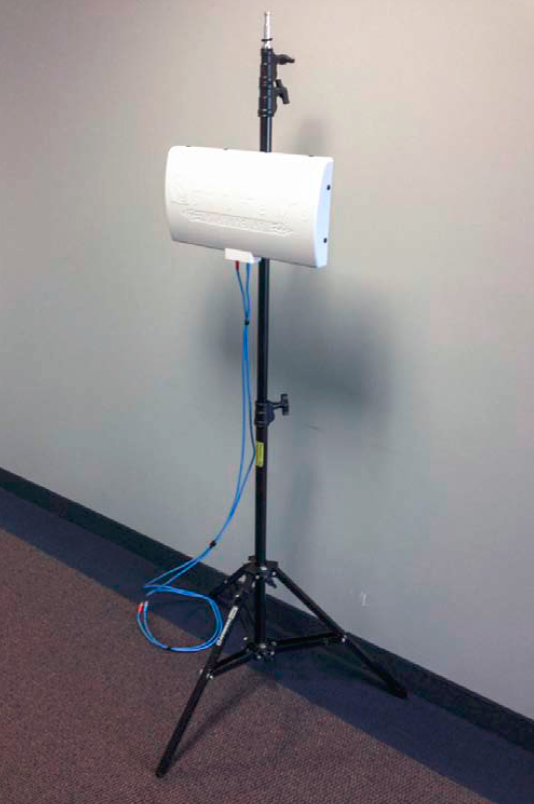 FlashPoints are meant to be mounted to tripods 60 inches from the ground which allows them to offer a different vantage point to observe timing tags. Flash Points are excellent for remote Split points since they are lightweight and easily portable. FlashPoints are often used for Bike races or Ski races since there are no Gators to act as 'speed bumps'. FlashPoints require more power than standard Gator antennas, so there are two cables per FlashPoint.
Since FlashPoints are free-standing antennas, it is possible to collect tag reads from 'behind' the FlashPoint which could cause errant reads. To combat this problem, you can purchase FlashGuards which act as a shield to keep the FlashPoint signal from reading behind it.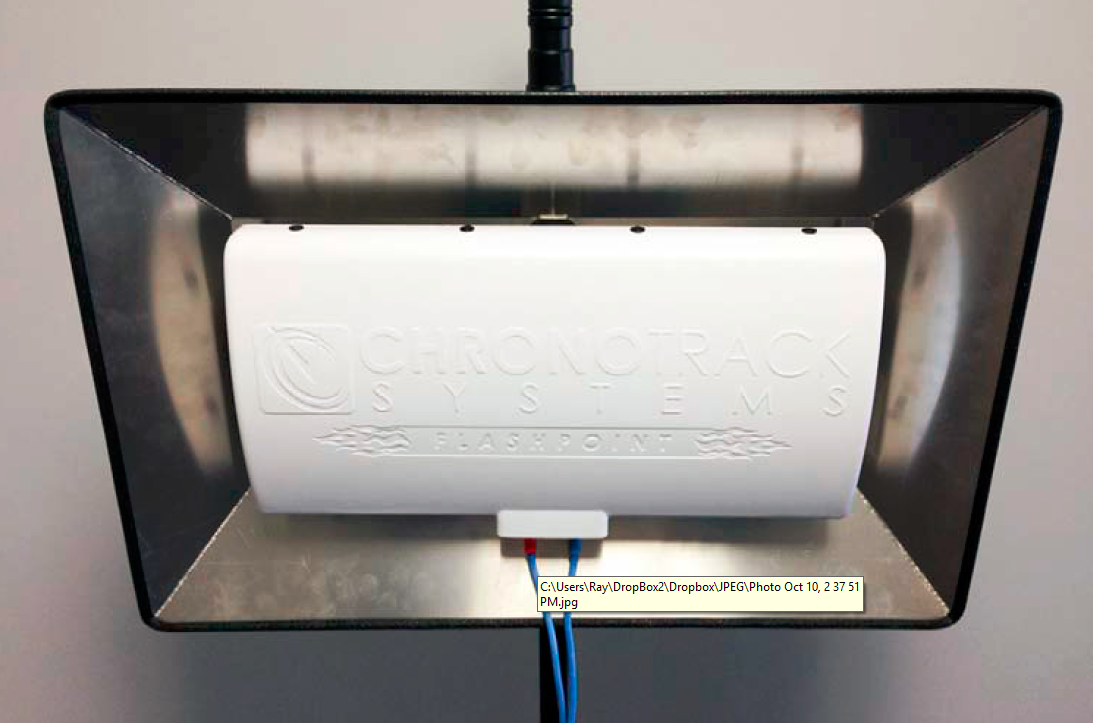 Near-Field Antennas

Near-Field Antennas are small antennas that are best used as a 'Wand' to read tags up close since their effective range is less than 5 inches. This works well for Chute Start type races such as Stair Climbs and Time Trials. ChronoTrack does not sell the mounting paddle for the near-field antennas, but one can be fashioned out of wood or plastic fairly easily.
Active Extension
Though not strictly speaking an antenna, the Active Extension and its Loop wire are the necessary components for collecting reads from the ChronoTrack Active Tags. The Extension is powered and operated from MiniTrack controllers that have been modified to support it. For more information on the Active Extension, click HERE.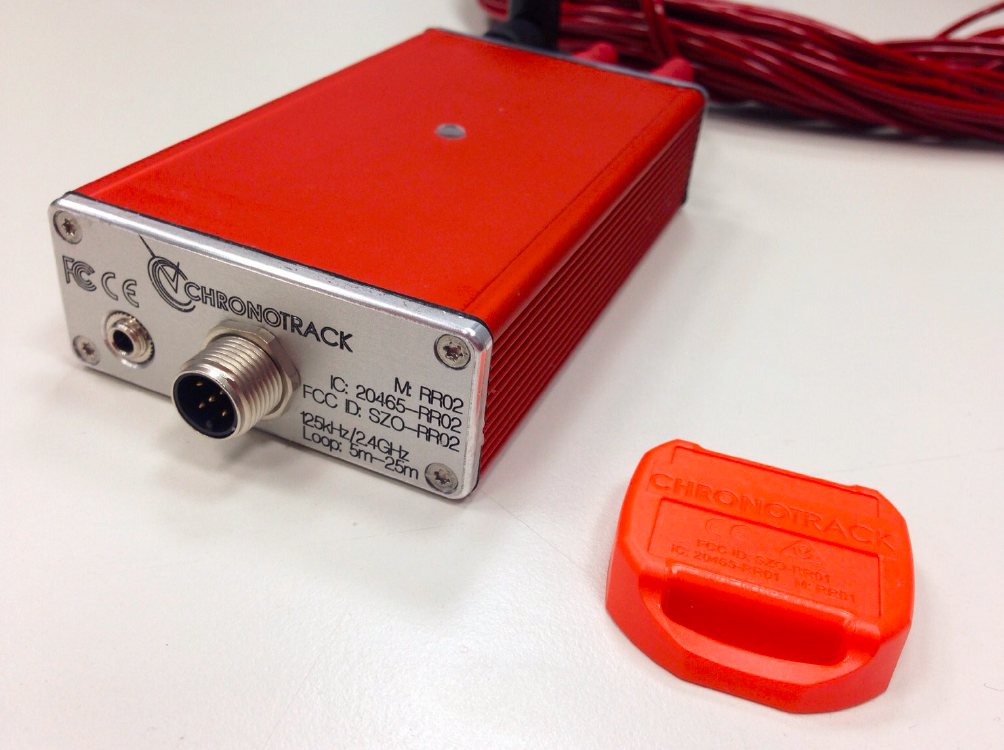 Tags
ChronoTrack produces four different types of Tags: Shoe (D) Tags, Bib (B) Tags, Bike Tags, and Triathlon (Tri) Tags. There are a variety of application and use instructions for race personnel and athletes found Here.
D-Tags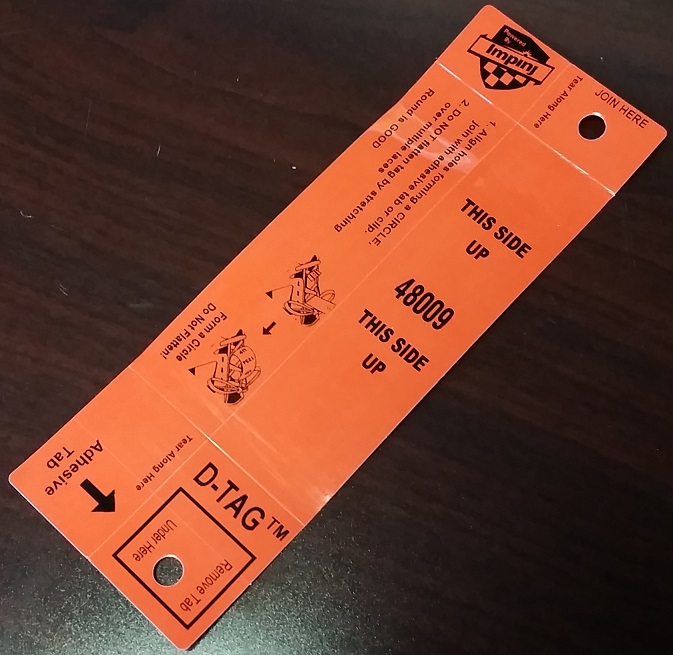 D-Tags or Shoes tags are the first tag produced by ChronoTrack and are designed to be looped through an athlete's shoelaces. D-Tags are best used with Gator Antennas since they are low to the ground. FlashPoints are not as effective at reading D-Tags unless they are mounted lower to the ground.
D-Tags are composed of two sections that are separable by tearing along the perforated edge down the middle. The tag itself is on the right side in the picture above. Directions for use are printed on the left side, which is not necessary for the race.
B-Tags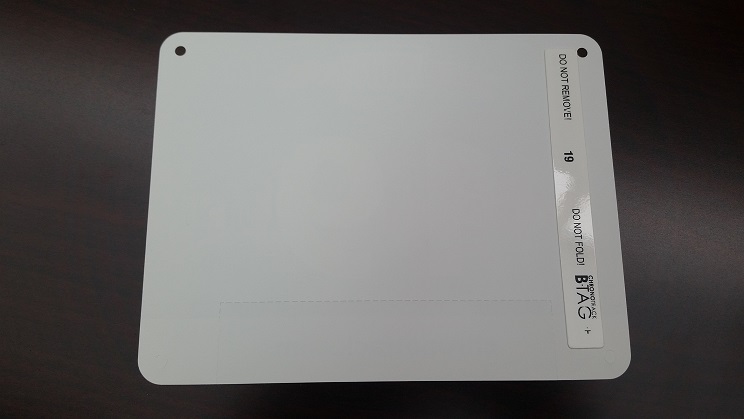 Also called Bib Tags, B-Tags are applied vertically to the back of a runner's bib. You can also order Dual B-Tags where every two tags on the roll are printed and encoded with the same number. In this instance, you would apply the tags to both sides of the bib on the back. Bib tags work well with both Gator Antennas and FlashPoints.
This type of tag can also be adhered to a baton for relay type events. When using this tag with a baton, be sure NOT to use a baton made of metal or any type of insulative material. It's best to use a baton made of plastic. If you have questions about specific materials, feel free to contact the Timer Support team using the information at the bottom of this page.

The ChronoTrack Bike Tag is designed to be folded around the seat post of a bike and adhered to itself. It appears like a flag extending behind the bike seat when properly applied. The tag itself accounts for about half of the total printed size (A, above). The other half of the tag is taken up by stickers for the right, left (B, above) and front (C, above) of the helmet. Note that the orange letters are not printed on the tag.
Bike tags are only effective with FlashPoints set up vertically with the bottom edge set 48" from the ground. (See example below)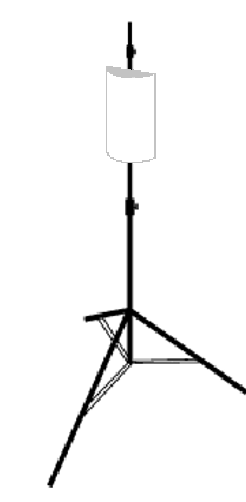 Tri-Tag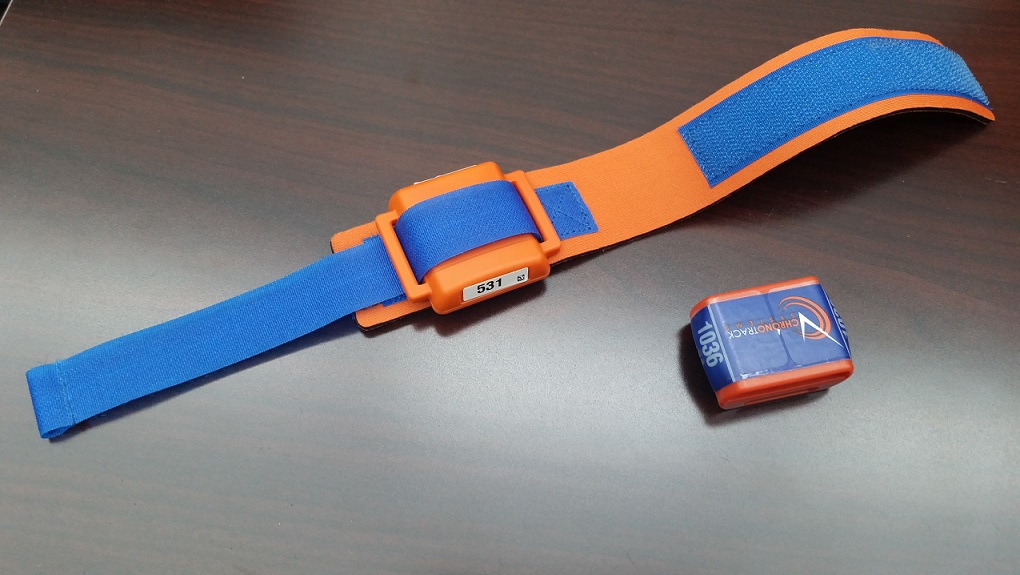 The ChronoTrack triathlon tag is available in Reusable and Disposable versions. Both are resilient to water damage, allowing them to be used for every stage of a triathlon. The Reusable Tri-Tag is considerably heavier than the disposable one. Both tags can be used with the neoprene strap produced by ChronoTrack (pictured with the Reusable Tri Tag above).
The Tri-Tags are generally meant to be worn around the ankle. Because of this, they are best used with Gator Antennas since they are low to the ground. FlashPoints are not as effective at reading Tri-Tags unless they are mounted lower to the ground.
Active Tags
The ChronoTrack Active Tags are the newest reusable tag type from ChronoTrack. Like the Tri-Tag, they are resilient to water damage, making them ideal for any sort of event that involves water. What sets the Active Tag apart as a distinct timing solution is that its operating frequency and internal battery make it completely impervious to interference from mud or water. This makes it a perfect solution for mud and obstacle type events where the tag may become caked in mud.