Introduction
In order to help you more fully understand the Team Payment Structure options and how they affect you and your athletes, this guide will explain the nuances of each option. Remember that you select the Team Payment Structure on the Registration Choice level after selecting the Team Type.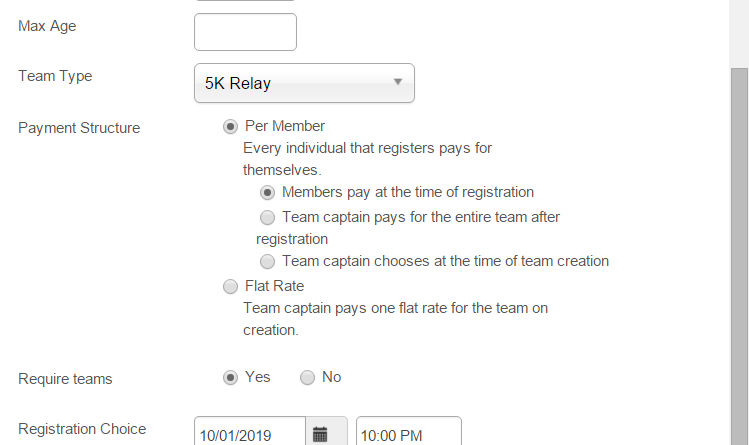 Per Member
The Per Member option encompasses three different payment options. The third simply allows you to let the Team Captain choose between the first two when the Team is created.
The first option, Members Pay at the Time of Registration, behaves exactly the same as an individual athlete's registration. The athlete will receive the same confirmation e-mail and the Team Captain doesn't need to take any action on behalf of his athletes. This is the default payment structure.
The second option, Team Captain Pays for the Entire Team After Registration, is probably the least-understood payment structure. Selecting this option means that payment is not due for any team until after registration for the Event closes, even if registration closes after the event actually takes place. Selecting this option also removes the Number of Registrants pricing tier type.
Once you close the Registration Choice, you'll notice that there is a Send Payment Reminder button in the lower right corner of the registration choice's frame. This button will remain grayed-out until registration choice closes for the event.


When a Team is created in the registration form, the Athlete creating the Team will automatically be made the captain. The captain will be notified of the payment structure after creating the team, and also in the confirmation email.
Once Registration closes, you can send an e-mail to the Team Captains using the Send Payment Reminder button. The e-mail the captain receives contains specific instructions on how to pay for the team.
The link in the e-mail will direct the captain to their Athlete Profile on ChronoTrack Live where they can click the Manage Team button next to your race.

On the next screen, they will select the Pay for Team button which will guide them through the payment process.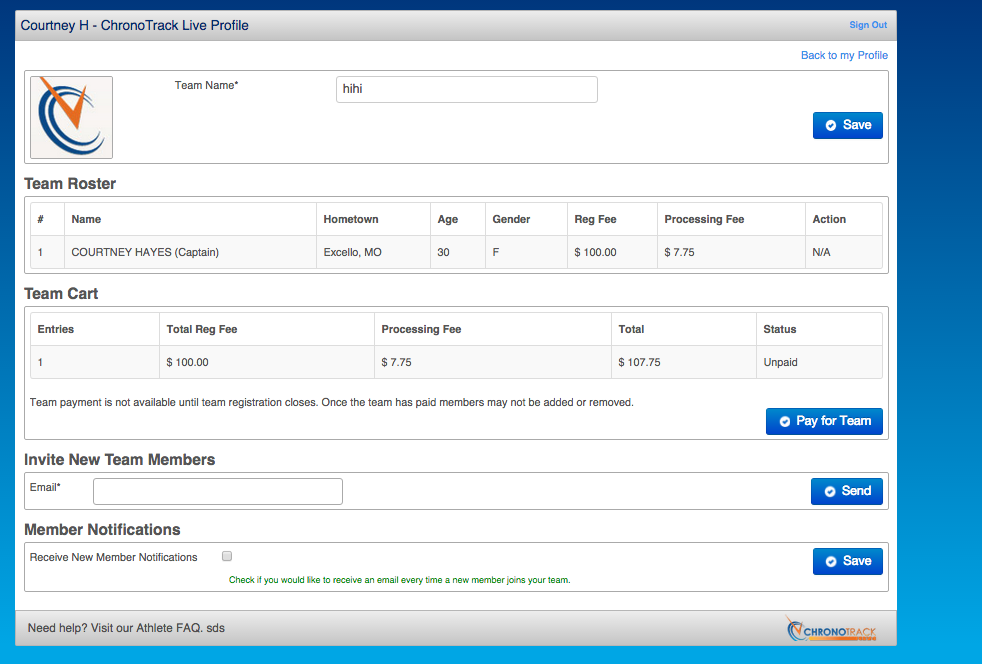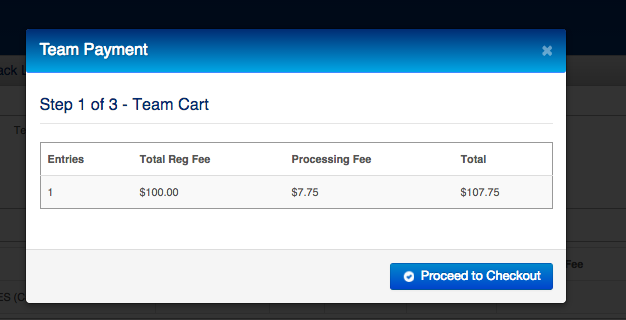 Flat Rate
The final payment structure option is very simple. When an Athlete creates a Team, that athlete is automatically the Team Captain and is responsible for paying a flat fee for the entire Team, regardless of the number of members the Team may have at the end of Registration.