Introduction
The Reg Classes feature allows you to create categories or "Classes" to group similar Reg Choices from multiple different events within the same Organization together. Once you've created a Reg Class and added Reg Choices to it, you'll be able to apply coupon codes to the Reg Classes.
This guide will show you how to create a new Reg Class, add Reg Choices to a Class, and view Reg Choices that have been added to a Class.
Adding a Reg Class
To add a new Reg Class, click the My Orgs button at the top of any page of CT Live admin.

Click the Reg Classes tab, then click + Add New Registration Class.

In the window that appears, select an Organizer from the dropdown, then enter a Reg Class Name. This name should easily identify the type of Reg Choices it will contain.
Finally, you can choose to Allow Duplicate Entries. Normally, CT Live will show a warning to athletes who enter a First Name, Last Name, Gender, and DOB combination into the registration form that already exists in the event and require them to change one of these entries before proceeding. Checking this box will disable this warning, allowing the athlete to continue with registration. This is useful for situations where you're using a reg choice to sell shuttle tickets, gift certificates, etc.

Click Continue to go to the next step.
The next step allows you to select any number of existing Reg Choices within your selected Organization. Check the box next to each of the events to expand its list of Reg Choices, then check the box next to each Reg Choice you'd like to add.


Do not un-check the box for the race listing after selecting the Reg Choices. This will deselect all selected Reg Choices under that event.



Click Complete & Save when you're done making your selections.
Adding a New Reg Choice to a Class
If you're creating a new reg choice and want to add it to a Class you've previously created, the option to select a Reg Class appears at the very bottom of the Create/Edit Reg Choice window, as shown here:
Simply select the Reg Class, and click Save & Close when you're done with the other settings.
Viewing Reg Choices Within a Class
To see which events are in a specific Reg Class, go to the My Orgs page, then click the Reg Classes tab. You will see a list of each of your Reg Classes. In the Events column, click the View button.

In the window that appears, the Organization, Event Name, Event ID, and Registration Choice will appear in a list.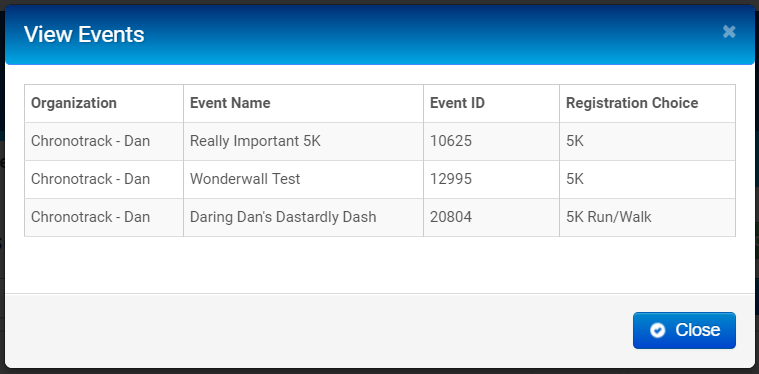 What's Next?