Introduction
If you're hiring one or more photographers to shoot photos for your event, you need to ensure that you and they have a clear understanding of several key aspects of your event.
This article provides an overview of common important information for you and your photographers to keep in mind and provides a downloadable "cheat sheet" handout template for easy reference.
We recommend that you begin looking for a photographer 90 days prior to the event to ensure availability.
What to Look For in a Photographer
Has Worked sporting events before
Has worked for a companies like MarathonFoto, Brightroom, GameFace, etc
Has a history of shooting action and portrait photography. Most photographers will have a website showcasing their work
Must be able to shoot up to 10,000 photos at an event
Photographer Coverage Recommendations
This graph shows the number of photographers and types of photography locations we recommend for some common event types. These are purely our recommendations for ideal coverage and should not be taken as a requirement.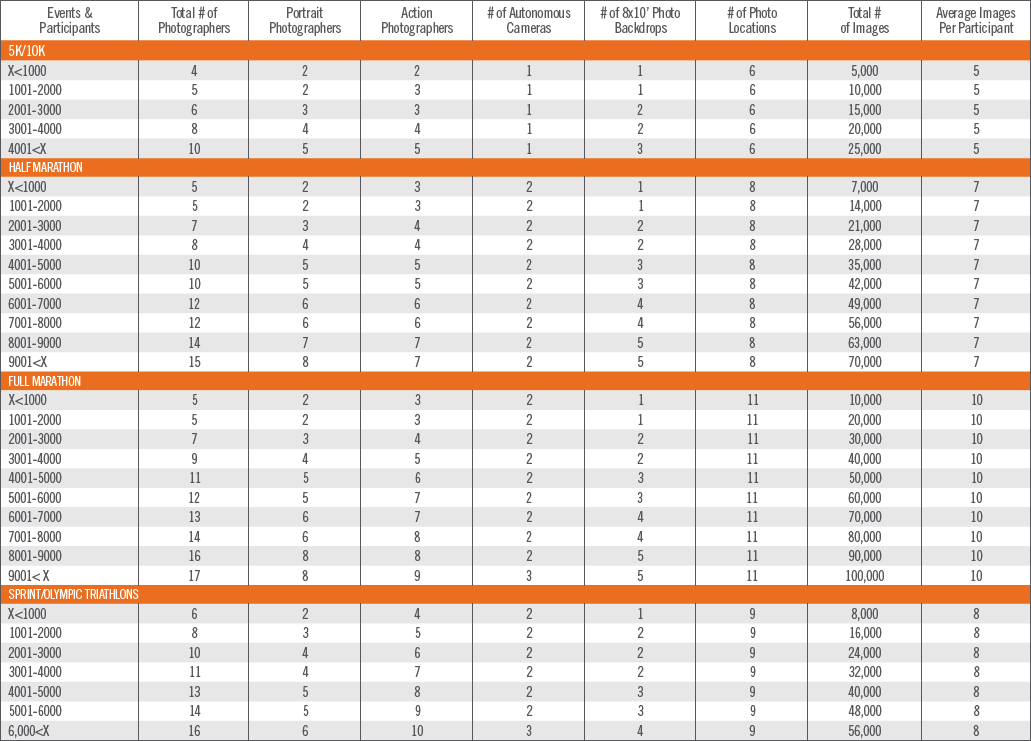 Minimum Photographer Gear Requirements
Primary and backup DSLR cameras (Canon or Nikon preferred)
Long lens between 70-200mm 2.8 glass with monopod
Short lens between 15mm-105mm
External flash or strobe for portraits and/or start line (if necessary)
Minimum of 16 GB available memory
Backup batteries for both cameras and external flash
Weather protection for gear and person
Optional Secondary Gear
Auto-camera and rig
Video camera and rig
8' A-frame ladder
Camera clamps
Extra CF/SD cards
Extra lenses
Laptop + internet solution for remote uploading
Upload Requirements
Photos should be uploaded as soon as possible post-event - ideally within 12 hours of the last finisher. Photographers can upload themselves OR pass media cards to you.

If you require photographers to upload the photos, you will need to supply them with Instructions and the Athlinks Media Uploader download URL and the Media Authentication Token, both of which can be found on the Media > Athlinks Media Uploader tab.


Photos must be copied to the computer for upload. Uploads directly from media cards frequently fail
Internet speed of no less than 20 Mbps Upload
Media Logistics Checklist
Confirm date and location with photographers
Provide course map and/or pin drop from an online map service
Confirm equipment requirements. Confirm total number of cameras to be used
Confirm event photography capture best practices
Schedule a pre-event meeting at the venue
Designate a photographer as Team Lead (if hiring multiple photographers)
Determine race-day arrival time
Provide race-day contact info for all media staff
Provide estimated start and finish time
Provide parking and event credentials for media staff
Determine post-event responsibilities (e.g. Who is responsible for delivering/uploading media)
Instruct Photographers on uploading media to CT Live and provide the Media Authentication Code in advance (Found on your CT Live event under Media > Athlinks Media Uploader)
Photographer General Information Sheet (Preview)
For your convenience, we've assembled this simple information handout. You can download it in .docx format at the bottom of this article and edit the bold items to fit your event and needs before distributing to photographers.
Page 1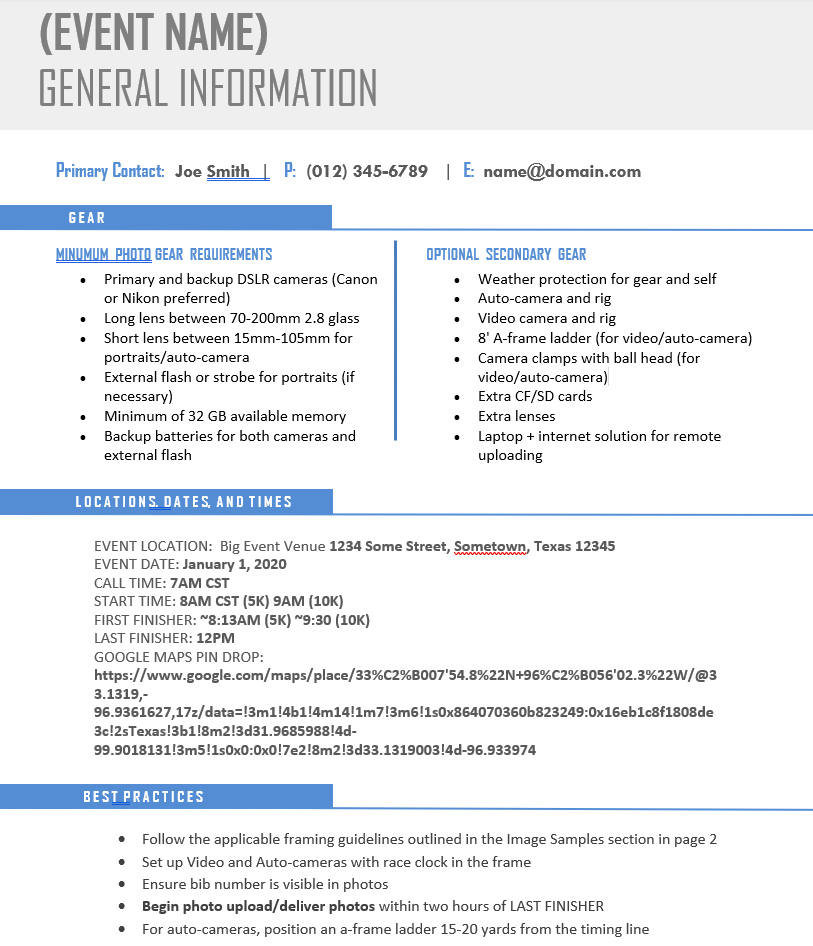 Page 2