Introduction
The below is a guide for the installation of the P108 battery fix, which prevents rebooting of the MiniTrack controller as a result of Ryobi's battery management chip.
This battery fix is not required for any Controller whose serial number is higher than 10645.
Installation
Begin by removing the P108 battery fix components from the electrostatic container. The contents should include:
• 4 x ¼" posts.
• 4 x ¼" nuts.
• 4 x ¼" Hex Bolts.
• 2 x Circuit Boards
Remove the 6 screws that hold the blue MiniTrack Deck in place.
Remove the MiniTrack Deck from the pelican case housing by lifting up.
Flip the MiniTrack deck upside down to access the battery terminals.
Remove the nuts that hold the battery cables to the terminals using a ¼" socket.


Once the nuts have been removed it should be noted that the Hex Bolts which are exposed can be pushed through the other side. If they fall through they will need to be re-secured.

Using a ¼" socket attach the ¼" posts to the now accessible terminal bolt threads. Ensure that the battery terminals are secured beneath the posts, and that the posts are not over-tightened.

Place the circuit board on top of the exposed threads protruding from the posts. Ensure that the + and – indicators on the board match the + and – indicators on the battery tray mold. The + indicator should also correspond with the "Red" cable and the – indicator should correspond with the black cable.
Secure the circuit board using the ¼" nuts that were removed as part of step 5, or you may choose to use the ¼" nuts that were provided in the P108 battery fix container. Do not over-tighten as this can damage the board. You should have 4 spare ¼" Hex Bolts and 4 spare ¼" nuts if you did not replace any of these components.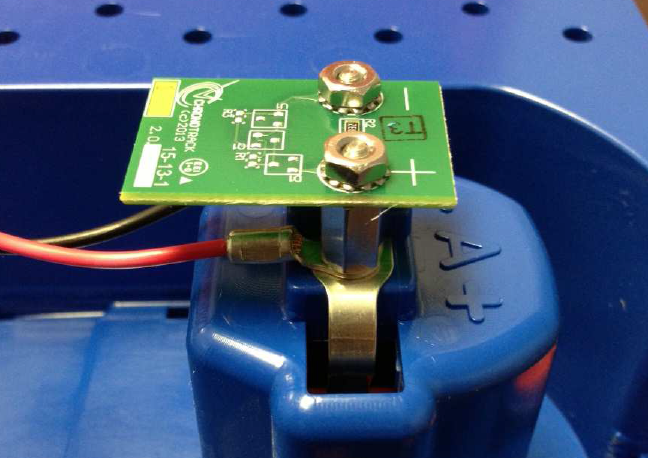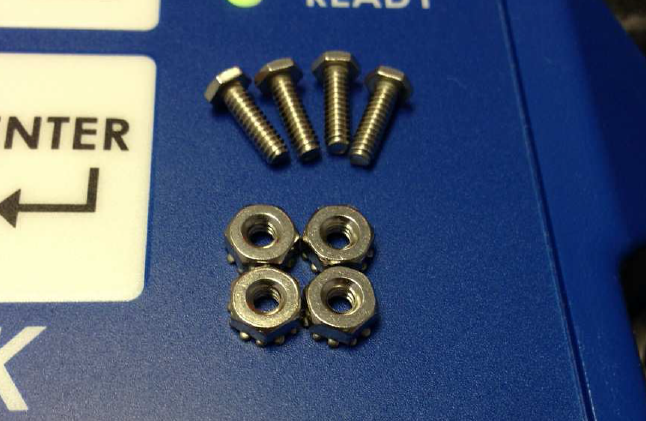 Installation is now complete. Place the deck back on the case mounts with the display toward the lid and replace the screws you removed in step 2. Be careful not to over-tighten the screws which could strip out the threads. Finally, please affix the supplied battery fix stickers to the battery tray in the highlighted section below.