Introduction
This guide will show you how to use the On-Site form in CT Live to dynamically assign bib numbers to Athletes and Teams. Before you can run packet pickup with dynamic bib assignment, you have to Enable and Configure On-Site Registration.
Once you've configured registration for your event, you'll see the On-Site Registration link appear on your event Dashboard.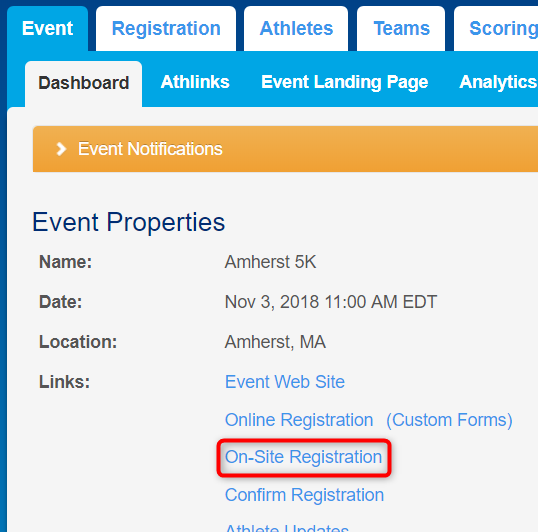 Using Dynamic Assignment
Click On-Site Registration on the main Event Tab. This will bring up the On-Site Registration landing page.
Click the I'm Registered button.

Enter the name of the Athlete to be checked in and press Enter.
If there is more than one result for the name you entered, a list will be displayed from which you may select the correct entry.

Verify that the Athlete's information is correct, then enter a Bib number to be assigned. Generally there should be a stack of un-assigned bibs nearby, and volunteers or race staff will assign bibs from the top of the stack as Athletes come up. If you do not need to enter a bib number, such as for a Relay team member, enter Y into the bib field.
Click Assign.
The screen will display a confirmation box. Click Finish to return to the On-Site Registration landing page.