Introduction
If you are using MiniTrack firmware version 5.2.9 or higher, you can use almost any USB keyboard or keypad - wired or wireless - to enter manually keyed times. Keying in reads is an excellent back-up in case there is an issue with antennas or tags. Entering keyed reads as a backup doesn't take a rocket scientist, so you can easily have a volunteer enter keyed reads as finishers cross the line, freeing you to take care of more important matters.
Keyed reads are ideal for Chute or Time Trial start times or backup finish reads.
Please test any keyboard before you use in on race day!
Using Keyed Reads
There is no special setup necessary on the controller. All you have to do is insert the keyboard's cable or wireless dongle into one of the Controller's USB ports, type in the bib number of an athlete, and press Enter. The controller will record this entry as a read.
We don't recommend using keyed reads for official finish times except in the absence of a valid chip read.
Keyed reads are classified differently in data files than reads collected with an antenna. When streaming tags through StreamManager or SimpleClient, you must select 'Keyed' or 'Keypad Mode' as the tag mode. Since this processes only Keyed reads, they can be easily applied to a Priority 2 Timing Device within CT Live.
If you are processing data through SimpleClient, you can process Normal and Keyed reads simultaneously.
SimpleClient: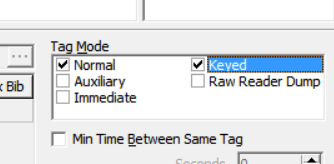 StreamManager: