Introduction
With the introduction of ChronOS version 1.2.3.0 AND Fusion version 3.5.9, you can now remotely view the statuses for your Pro2 controllers' batteries, ports, readers, and more in Fusion. This article will show you how to authorize your controllers on Athlinks Services' remote server and view their statuses in Fusion.
This feature is currently in BETA and the proper ChronOS and Fusion versions are not yet published on the Timer Portal. If you'd like to try out the new Remote View options, please contact Support for download links.
This process requires you to have an account on athlinks.com (not start.athlinks). If you don't already have an account, please go HERE to create one.
If you've previously completed this step, skip to the Log Into Athlinks section below.
Adding Controllers to the Athlinks Services Hub will allow you to view those controllers in the Remote display in Fusion. Controllers can only be associated to one user account at a time, so if you have multiple staff who need to use Remote View, it's a good idea to share a login. Controllers can be de-authorized and re-authorized on a different user account if necessary.
Power on the controller(s) you want to add to Hub and connect them to the ChronoTrack Server. Once they're connected, tap the Remote Control button.

Tap the Authorize button and wait for the the Auth Code to appear.


Once you see an Auth Code, go to https://hub.chronotrack.com/remotecontrol and log in using your athlinks.com account information.
Click the ADD CONTROLLER button, then enter the code from the Controller in the window that appears, and click AUTHORIZE.


Once the controller is authorized, it will appear on the Remote Control page of the Hub as shown here:

Your controller is now authorized on the Athlinks Services Remote server. Repeat steps 1-4 for each controller you'd like to add to Remote View.
Open Fusion, and click the Controllers tab, then click the LOGIN TO ATHLINKS button.

In the window that appears, log into your Athlinks account.

Once you're logged in, you can locate Online controllers in the panel and drag them into the center area to view a Controller's remote statuses.
Using Remote Status
After dragging a Controller into the middle section, you can see the Power Source, Batteries, Immediate Mode status, Port Status, and Reader Status and Temperature.
The Properties tab in the panel on the right will show the current Event and Point names and Reader Status and Power levels. If you click the Alerts tab, you can view the errors from the controller.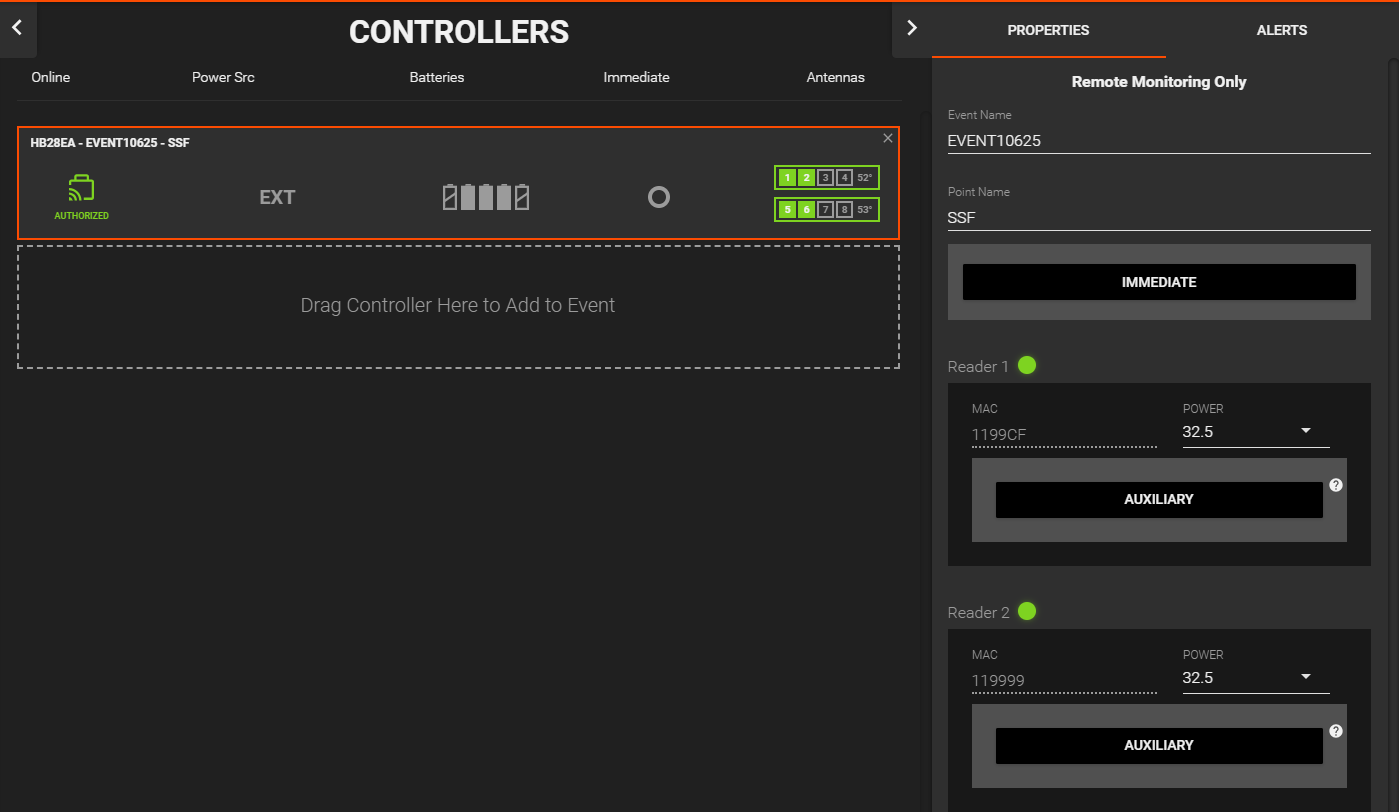 Any changes to features shown in Remote View should be reflected in Fusion within no more than 5 seconds of the real-world change on the controller.
Please note that the Battery indicator shows the presence of batteries and which battery is currently in use, but not their charge level.