Introduction
The Results Options tab contains options that influence how Online Results are displayed including Media aspects, Ranking and Results displays, Timer information, and appearance of the Results Interface. The tab is broken up into four categories – Basic, Advanced, Athlete Updates, and Finisher Certificates. You can toggle between these by clicking the links located just under the Checks tab.
The settings on the Basic and Advanced tabs only relate to the CT Live Widget and do NOT influence how results are displayed on Athlinks.


Basic Options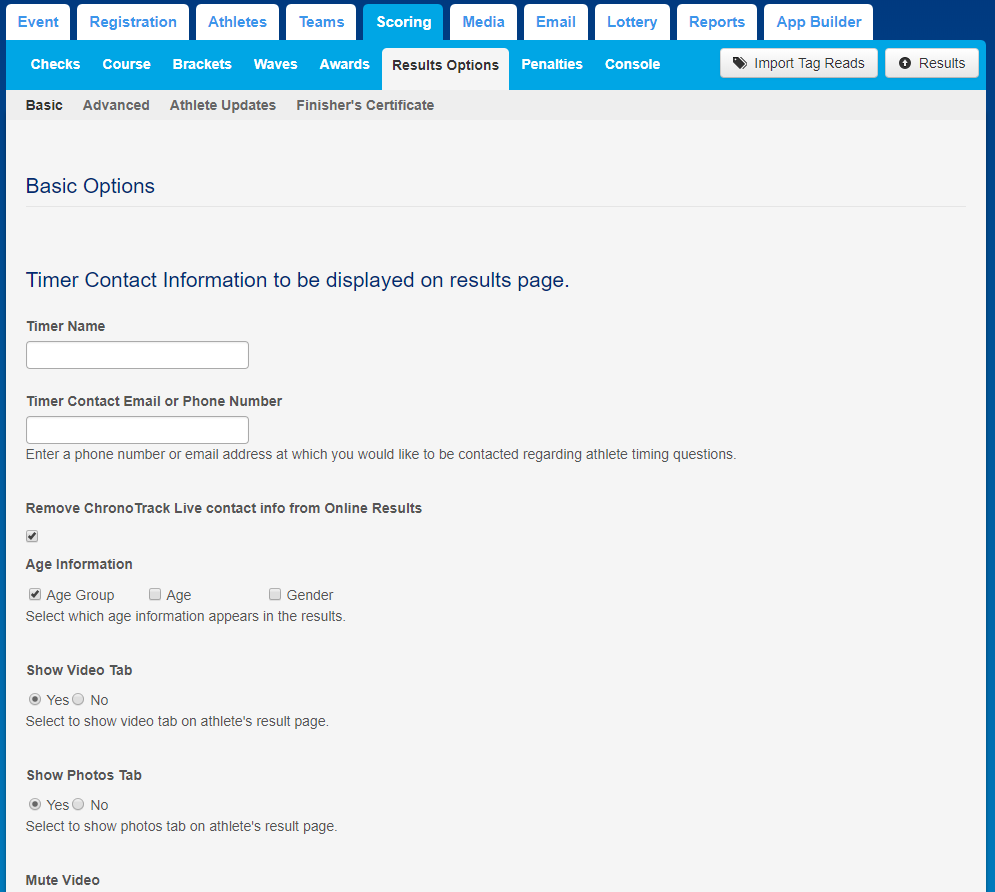 Timer Contact Info – you may enter a Timer Name and E-mail address or Phone Number. These will be displayed at the bottom of the Online Results Interface.
We highly recommend putting your Timer Information here as the best method for Athletes with missing or incorrect times and other issues to reach the swiftest resolution. ChronoTrack staff do not have the resources to field and resolve every Athlete complaint, and in the event that an Athlete from your Race calls CT Live Staff with a results problem, contacting you - the Timer - may be our first step toward a resolution.
Remove ChronoTrack Live contact info from Online Results – this removes the CT Live Support contact information from the Online Results Interface. This is checked by default.
Age Information – this allows you to select which age information appears in Online Results. You may select Age Group, Age, Gender, or all three.
Show Video Tab – this allows you to toggle the Video tab on or off which is useful to avoid confusion when you do not have videos for the event.
Show Photos Tab – same function as the Show Video Tab.
Mute Video – this allows you to forcibly mute video during playback in the results interface. This is useful if the soundtrack is too loud or inappropriate.
Ranking Columns – this allows you to select which ranking column(s) you want to show on results for an athlete. You can select Age Rank, Sex Rank, Overall Rank, or all three.
Results View – allows you to choose what type of view you want to use when showing athlete's results. You can select Interval Split Times, Interval Course Times, or Both from the dropdown. Interval Course Times will show results for any Course Intervals. Interval Split Times will show results for any Split Intervals.
Penalties View – for multi-sport events, this will allow you to adjust where Penalties are displayed in Online Results. You can choose After assigned interval or At the bottom of the results page.
Embeddable Online Results Snippet – clicking the blue Online Results link will bring up a popup containing a link that will allow you to embed Online Results in another web page.
Advanced Options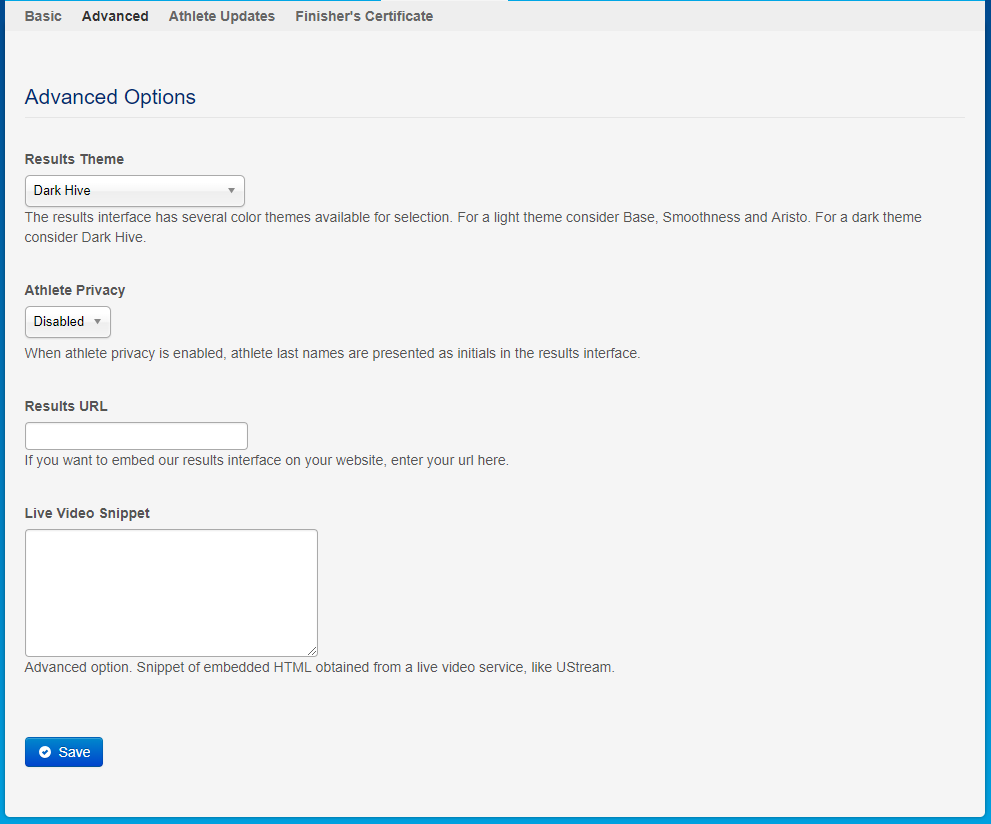 Results Theme – you can change the color theme for the Online Results Interface using the dropdown for this option. There are quite a few themes to choose from, so some experimentation would be in order if you are looking for a theme that will match your Event images. The default theme s Dark Hive.
Athlete Privacy – you can enable or disable Athlete Privacy. When athlete privacy is enabled, athlete last names are presented as initials in the results interface.
Results URL – this provides a link to the Online Results for your event. This is useful to post on your event or organization website to redirect athletes to Online Results.
Live Video Snippet – this is an advanced option that allows you to enter an HTML obtained from a live video service, like UStream. The video snippet will replace the default Video frame in Online Results.
Athlete Updates
From the Athlete Updates tab, you can select the language of the updates that go out and preview updates. You may also choose to allow Athletes to select their update language at the time they sign up for Athlete Updates.
If the language you want is not currently listed, you can use the 'Request new language here' link to learn how to get updates in your desired language.
For a complete guide to setting up and using Athlete Updates click HERE.

Once you have made your language selections, you can preview the updates at the bottom of the page. You can choose to preview an update for a specific race and interval using the dropdowns in the preview section.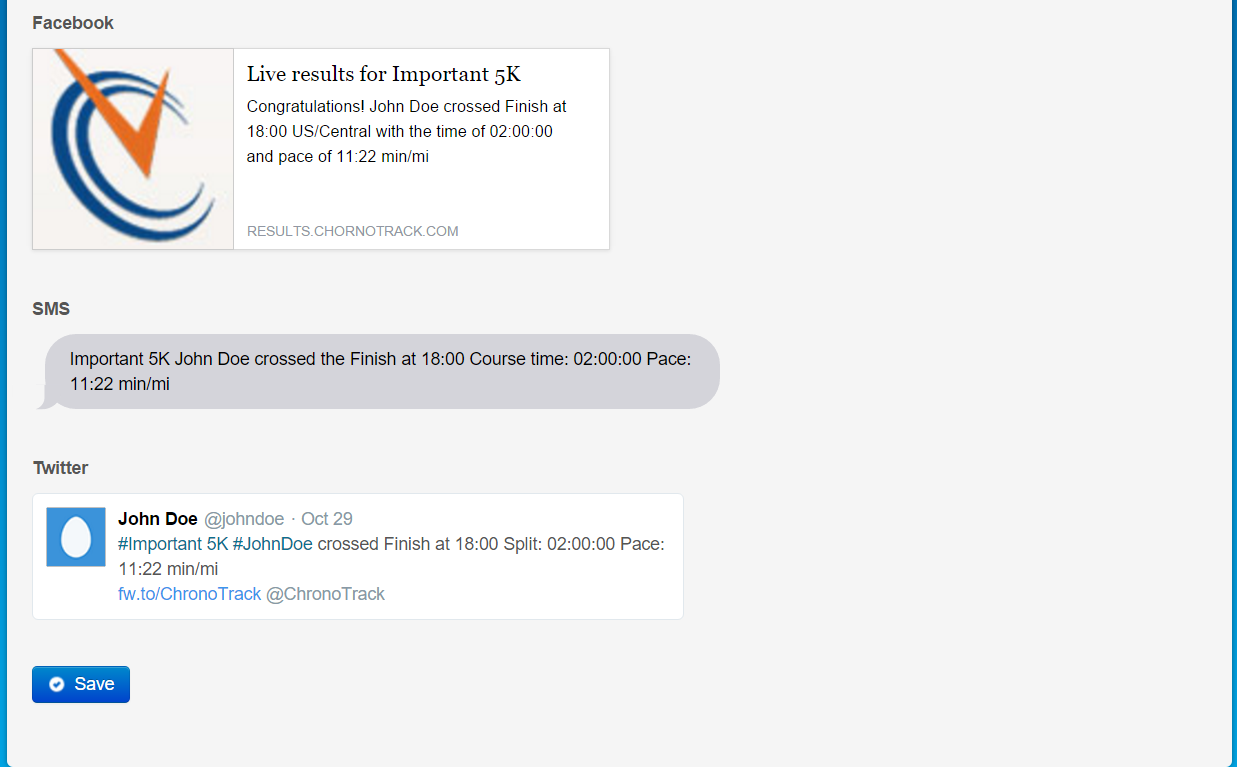 Finisher Certificates
This tab allows you to customize the Finisher Certificates that appear in Athlinks after your event is scored. For details on this, click HERE.