Enter the Information
Before you can transmit data from SimpleClient to an internet or local-based scoring program, you must first configure the Direct Socket Out details. This provides Simple Client with a destination address to which it should send data.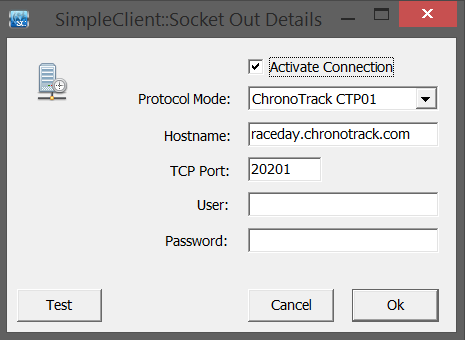 Click the Direct Socket Out menu item
Click Connection 1, 2, or 3.
Connection 1/2/3 – opens the Socket Out Details window.
Specify the timing Protocol Mode (default is ChronoTrack CTP01)
Specify a Hostname. For ChronoTrack, this should be raceday.chronotrack.com
Now specify a TCP Port. For ChronoTrack this should be 20201
Next, specify a User name and Password if these are required by your timing software. None are required for ChronoTrack.
You can also Test the connection. If a test is successful, you should see a success message. If the test receives an error, check your settings and internet connectivity and try again.
Once you are finished entering all information, check the Activate Connection box. 
Click Ok.
Save the Configuration
If the information you entered is for a scoring platform you use often, we suggest saving the Configuration of SimpleClient to avoid having to re-enter the information every time you open the program.
To do this:
Click File > Save Configuration


Overwrite the existing SimpleClient file in the window that appears.