Introduction
Athlinks does not currently have the ability to link a CT Live event with your Athlinks event AND supply the results widget override. We are working toward this ability.
If you are using our latest Athlinks results widget that integrates both Athlinks results and CT Live results. Here are the quick steps to upload results into your event to Athlinks and have the results link in the Athlinks widget redirect to your event's CT Live results page.
Make sure to have your CT Live Event ID handy
Making the Override
First, Upload Results into your event on start.athlinks.com.
Once results have uploaded, click on the Options button on the far right side of your Event Dashboard and select the Claim button.
A pop-up will appear so that you can Confirm your Event Claim. Check the Timer check box and select your timing company from the pull-down list, then enter the CT Live Event ID number into the 3rd Party Race Id box to the right of the Timer claim row.
Click OK. The Results link for the event in the Athlinks widget will now redirect to the CT Live results page.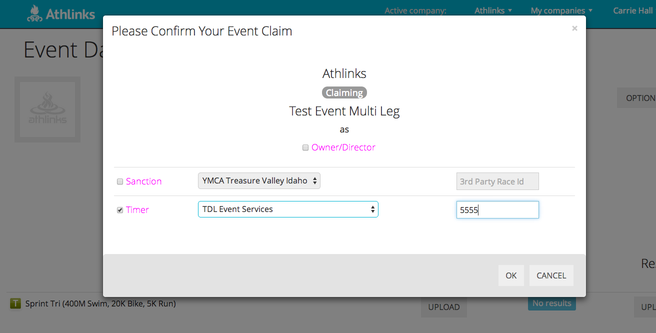 To verify, go to the results page on your site, click on the year for the results you just uploaded and confirmed the override. The CT Live widget should populate. Results links that re-direct to CT Live results will have "-Live!" after the year.