Introduction
If you're not live-scoring a race, you don't need to connect your Pro2 to the Server or a computer to access data. You can simply pull the data from the controller using a USB drive once the race is over, or even at intervals during the race. It's also a good practice to pull USB data from your controllers - even if you did live scoring - to keep in a race data archive on your computer, should questions or concerns ever arise that would require a closer look at the data.
Copying Data
From any screen in ChronOS, press the Race Ops menu, then tap the File Management option.

Insert a USB drive into one of the Pro2's USB ports. Once the controller has recognized the USB drive, the panel on the left will display the files on the controller. Files will be listed with the Event name under which the file was created, the month, day, hour, and minute the file was created, and the Point name under which the file was created.

You can copy files in three different ways.
- Tap an individual file, and then tap Copy Files to copy a specific file. You can select multiple files to copy by tapping their entries.
- Tap Select All Files, then tap Copy Files to copy all data on the controller.
- Tap Select Active Files, then tap Copy Files to copy the data that is currently active on the controller.
Files are created in pairs - a CSV and an MRK - so there will be twice as many files copied to the drive as are noted in the File Management screen.
Whichever method you choose, a progress bar will appear on the screen as the files are copied. When the bar reaches 100%, the window will close and you can remove the USB drive from the controller. For single files, this process takes less than a second.

You can sort the files on the controller using the two arrows at the top right corner of the file pane. You can choose to sort by Session (Date created), alphabetically by Event name or Point name, and by #of Tags in the file. Tapping the sort field once will display files in ascending order. Tapping the field again will display them in descending order.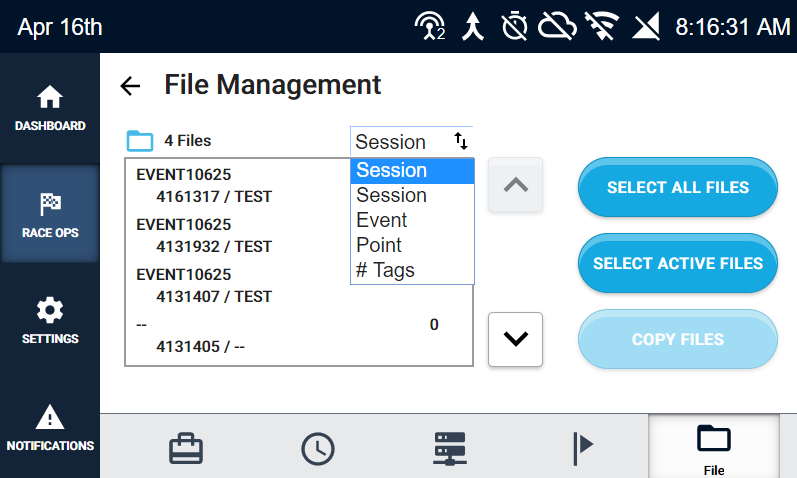 What's Next?