Introduction
In order to open your event's registration to Athletes, you must provide a waiver of liability for the Athletes to agree to. You can select from past Waivers or create a new one from scratch. You can also determine settings for privacy policy and marketing email opt-ins.
The settings on this page will NEVER prevent an athlete from receiving a Confirmation Email if they choose to opt out of email communications.
Creating a Waiver
Navigate to Registration > Waiver and Data Privacy.

Click the + Add a Waiver button.
In the Copy From field, you can choose to create a new waiver, or copy one from a previous event.
If you are not copying a waiver, add a Title to the waiver.

Enter the Waiver Text. There are a variety of text and data options available for formatting your text, including tables and images. For an explanation of how images work in the editor, click HERE.
Lastly, select the Waiver Rules. E.g. the method with which athletes agree to the waiver. You may select from the Standard Agree Next Button, Check Box to Agree, Initials Required to Agree, or Checkbox and Initials Required to Agree.
When you are finished, click Complete and Save.
Registration forms must be re-released before changes to the Waiver and Privacy Policy will take effect.
Set Privacy Policy and Marketing E-mail Options
The Privacy Policy and Marketing Email Opt-In sections have been added to bring ChronoTrack Live into compliance with GDPR. Enabling these options will add the following slide to ONLY the Online registration form (including Series registration):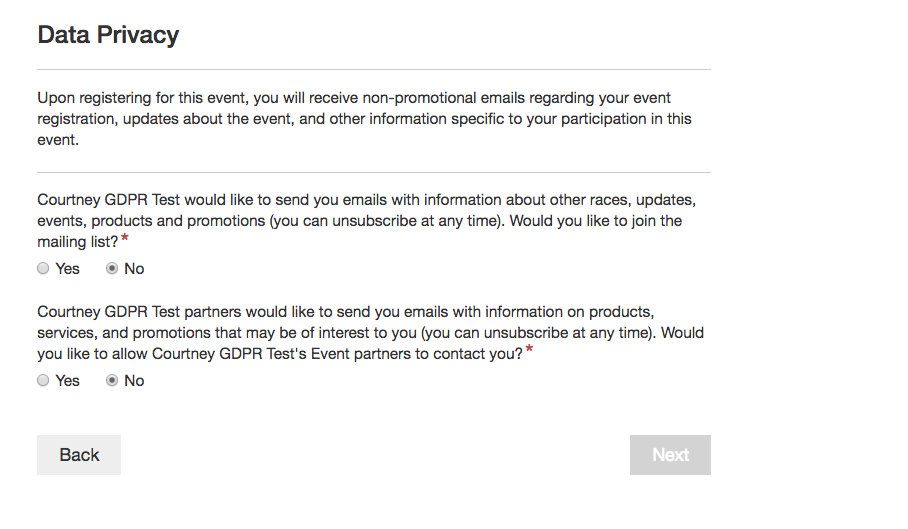 To edit the settings for these items, scroll down on the Waiver & Data Privacy tab.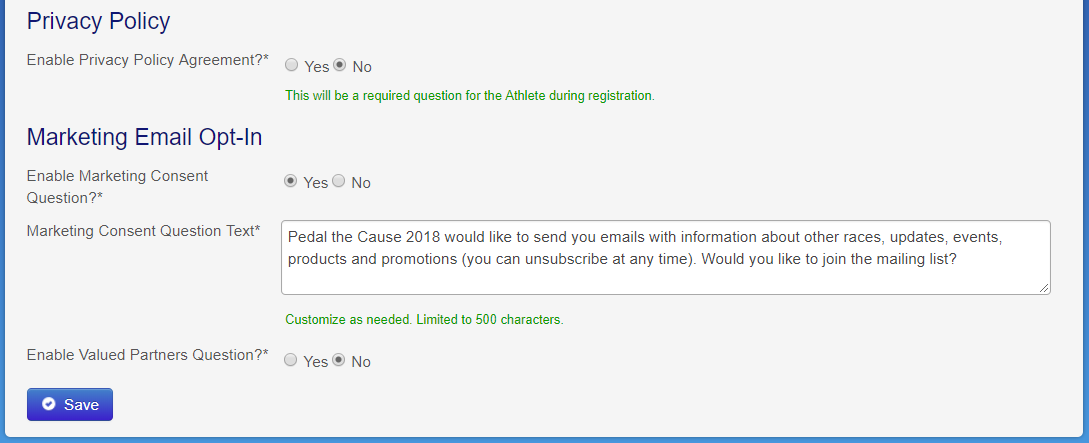 Enable Privacy Policy Agreement gives you the option to insert the link to your Privacy Policy on the Online reg form which will require athletes to agree to it before they complete registration. There is always a required Privacy Policy text displayed in every registration that cannot be removed or edited:

Enable Marketing Consent Question will enable an OPTIONAL marketing email opt in question that will display in the reg form if enabled. Turning this ON will reveal the Marketing Consent Question Text field which will be auto-filled with the default question as shown above. You can customize this with your own custom message. This question should be oriented ONLY to marketing communications from the Race Organizer and NOT from 3rd parties.
Enable Valued Partners Question will display an additional question asking athletes to opt in or out of marketing communication from 3rd parties (e.g. event sponsors and advertisers who are not directly related to the Event Organizer or Timer). Turning this option ON will reveal the Valued Partners Question Text field

which will be auto-filled with the default question text. You can customize this with your own custom message. This question should be oriented ONLY to marketing communications from 3rd parties and NOT from the Race Organizer or Timer.
Click Save at the bottom of the page to finalize any changes you make to these sections, and don't forget to release a new Registration Form on the Forms tab.
Answers to these questions will show under the Registration Info tab of an athlete's profile as well as in the Standard/ConfirmedEntries report. Answers in the report will appear as a Timestamp if the athlete opted in, and (-) if they did not.
Athletes now also have the ability to opt in/out from their athlete profile and can choose to opt in or out at any time after registration.