Before you can stream timing data from StreamManager to CT Live or other online scoring software, you must first add a Host to which to send the data.
To Add a Host:
From the StreamManager tab on the Timer Portal, click Manage Hosts.

In the Manage Hosts window, click Add a Host.

Name the Host by adding a Host Description (Example: ChronoTrack Live)

Enter the Connection String. The Connection string is the web address of the desired Host followed by a colon and the port number. For CT Live, this is raceday.chronotrack.com:20201 as shown above.
If necessary, enter your Username and Password information for the selected Host. A username and password are NOT required for the CT Live host address.
You may set the Host as the Default by checking the Default checkbox. When finished, click Submit to save your changes or Cancel to cancel the changes. You may also click Back to cancel changes.
Your host will now appear in the Manage Hosts window as shown below. You may add as many Hosts as you need.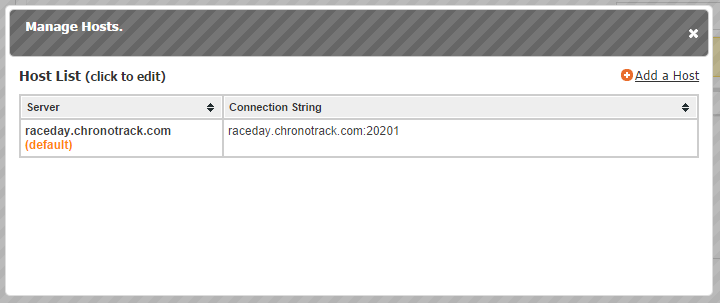 You can edit or delete a Host at any time through the Manage Hosts screen by clicking on the host to be changed.