Wait, what's CT Live 2.0?
CT Live 2.0 is a massive redesign of CT Live that introduces things like better visual design with ligh/dark mode toggle, responsive pages so you can use CT Live on a mobile device, and better navigation. CT Live 2.0 is slowly being released, page by page so that we can really get it right and gather and address feedback from our users along the way.
Because this is a slow release, and changes are expected, we will not be providing extensive 2.0 version of Knowledge Base articles until 2.0 nears completion. This article will continually be updated with a brief overview of each new page that is released and any updates beyond that point, so make sure to check back frequently.
The "My Events" Page
When viewing your Events in CT Live, they'll appear in a list on the My Events page as in 1.0. This list can be searched by event Name or ID Number, filtered by Time Frame and/or Organizer. You can also Sort based on a variety of criteria such as Date Ascending/Descending. You can also click the Location, Date, and Organizer headers in the event list to sort there as well.
The Light/Dark toggle in the upper right corner of the screen will switch the visual theme.

The icon of three lines in the upper left corner of the screen gives access to the Add Event, My Events, My Users, My Orgs, Downloads, and Help pages of CT Live.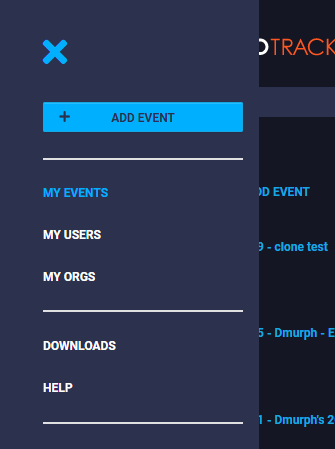 Event Creation
Event creation has now been condensed down to five steps in CT Live 2.0, and all Financial information previously included in Event Creation has been relocated to the Registration > Payments tab in CT Live 2.0. That means that if you're only scoring your event in CT Live, you never have to mess with any registration settings!
All financial features that were removed from the Create Event process and relocated to new locations can still be edited via Event Properties in addition to their new locations. Google Tag Manager settings have been relocated to the new Event > Dashboard > Tag Manager tab.

Here's the new process:
Click the + Add Event button. The first step will require you to select an Organizer you've worked with before, or enter information for a new Organizer.
This is the company, organization, or person putting on the event. If it's you, enter or select your information, and click Continue.



Relevant Reading: Understanding Organizations and Account Role Access
Step 2 is where you fill in the basic information for the event - what it's called, when it's happening, and where it'll take place.

Next, you can select a Timer for the event. If you're an organizer working with a timer you've never worked with before, you may not have access to select the correct Timer. Just leave the "Add a Timer..." box unchecked and continue.

Step 4 is where you choose an Athlinks event to link your new CT Live event to. Based on the Official Name you entered in Step 2, we'll try to find the right Athlinks event. If this is a brand new event or you can't find the previous year's event in the list, just click the "I don't see existing events..." bubble and then continue.

The last step allows you to choose which general features of CT Live you'll be using in this event. You can come back later and select additional services later. Leaving boxes unchecked will lock or keep some features hidden.

After you click Complete & Save on the last step, you'll be directed to the Event Dashboard in CT Live and the Create Race window will automatically pop up.